Angels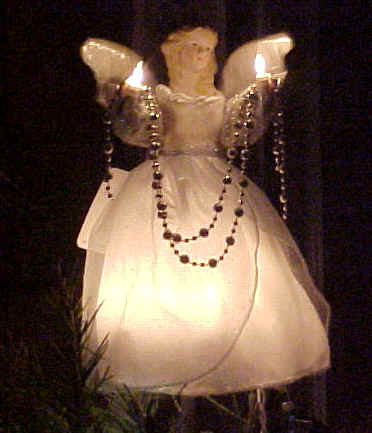 Do angels exist? I would say they do. Here is a story that happened to me in the late winter of 1996.
It was in the afternoon in February when I decided to take my mother on a car ride, going on the back roads and doing a loop like my dad used to do. The plan was to go to Brooklyn and then to Highway 101 on a back road. We left the Brooklyn road and went south and then things went awry. We went and went, and so it became clear that I had no idea where I was or how to get off of the logging roads and onto a main road. The gas in my car was less than a quarter of a tank and it was starting to get dark. My mom could not walk very far. We went down a ridge and came by a bridge, I stopped the car to go look around and see if I could see anything, when a road grader came driving down toward the bridge. I flagged the fellow down and asked how to get out of here. He told me to follow the road I was on and soon I would be out in Raymond. I walked back to the car, the road grader went past our car, mom did not see it. When I got to the car and started driving, I saw no sign of the road grader at all! It had vanished. We had driven about 10 minutes when we came out into East Raymond just like the fellow on the road grader had said. I am convinced the fellow on the road grader was an angel, because there was no further sign of the road grader after it had gone around the bend in the road from where my car was, plus the fact that my mom did not see it at all.

The map shows how I got lost. Raymond is on the southwest corner of the map. The red shows where we came from, the black shows where we wanted to go, and the blue shows where we did go. Map comes from the TopoZone.